Should I use Pagination or should I go with Infinite scrolling for my website? This question has struck E-commerce store owners many times and they are still not sure which method they should use. Through this article, we will try to make sure that you have an answer to this question at the end. Before we dive into which one you should implement on your website, let's first try to understand both.
What is pagination?
Pagination is the sequential numbering of pages located at the top or bottom of your website that divides your website content into discrete pages. It prevents your website pages from becoming too long.
The best example of Pagination is the Google search result. Every time you search something on Google, it displays multiple results that are divided into a number of pages. It can be viewed at the bottom of the page.
When to use Pagination?
If your e-commerce store has a lot of products, you should use Pagination to break it into relatively short pages.
Pros of Pagination:
Separators: A lot of information can sometimes be difficult to go through at once. This is where separators make things easier. Users find a pleasant experience when the content they are trying to view is segregated into different pages.
Easy tracking and bookmarking: With pagination, it becomes easy to track how much content you have consumed. Consider Google search results or Amazon for example, if you have gone through some pages already, you do not need to go through them again because it won't be worth your time. You can directly jump to a specific page and also bookmark it for later use.
Control: Suppose you want to reach to the footer of a website, it can be frustrating if the website does not follow the pagination process. In e-commerce websites, you would have to wait until the product list is over. Pagination, therefore, provides better control to browse the content.
Cons of Pagination:
Breaks the flow: Pagination obstructs the seamless view of browsing the content. It breaks the flow of a visitor by asking them to navigate to the next page for browsing further.
More clicks and loading time: A user might get tired of clicking and loading the pages again and again. Not only it is tiring, but more page load time can also disturb the user experience.
What is Infinite Scrolling?
Infinite scrolling is a single page scrolling that goes on endlessly with no certain finish line. It basically loads the overall content in a single page, offering a continuous flow of browsing. Social media sites like Facebook, Instagram are the best examples of Infinite scrolling as they have endless content.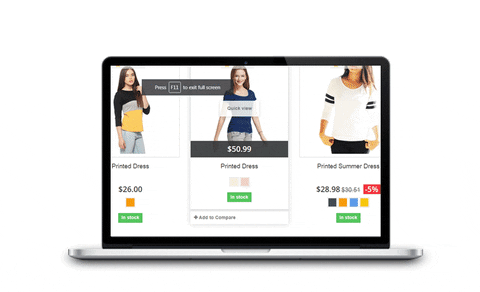 When to use Infinite scrolling?
If your intent is to make your users stay longer on your website, you can opt for Infinite Scrolling.
Pros of Infinite scrolling:
Best for mobile users: Infinite scrolling provides an amazing experience to mobile users. Since most of the website traffic today comes through mobile, Infinite scrolling is the best fit as it is much easier and more intuitive.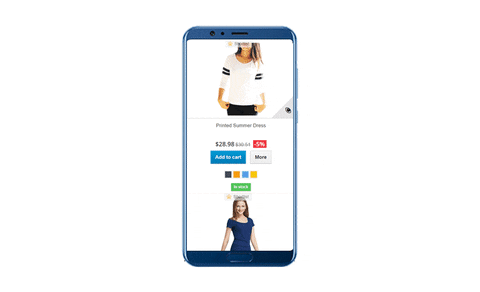 More User Engagement: Since Infinite scrolling puts up all the content in one place, users are less likely to get distracted. It doesn't break their flow and engages them more towards your content.
Automatic page loading: Generally, users are not patient enough to wait for a page to load. They want it to be loaded instantly. Infinite scrolling ensures that your users don't face the obstruction of page load by making it an automatic process.
Cons of Infinite scrolling:
Difficult to navigate to top: When users keep scrolling down, they usually dig so deep that returning to the top becomes a daunting task.
Let's say you are searching for a product in an online store. While browsing, you come across one that you like but to check more better options, you scroll down further and eventually find a better one. Now imagine how annoying it would be for you to scroll repeatedly to navigate to the top.
No endpoint: A never ending list doesn't leave a great impact. Users feel bored after a point and take an exit from your store. In addition to that, a user looking for the Contact Us page or Privacy Policy on your website can find continuous scrolling quite frustrating as they will find it challenging to reach the endpoint of the page.
Now, since you have understood both Pagination and Infinite Scrolling along with their pros and cons, it is time to decide which one can be a better option for your store.
After doing some research and knowing the opinions of e-commerce store owners as well as visitors, we came to a conclusion that Infinite Scrolling dominates Pagination in many ways.
It is a fantastic option for e-commerce store owners who do not want customers to lose focus from their store.
Infinite scrolling is more effective in creating user engagement and lowering bounce rate as compared to pagination.
Infinite scrolling eliminates pagination by constantly loading fresh content within the same page.
Users find continuous scrolling better than clicking multiple times.
Now, if you have made up your mind to go for Infinite scrolling, you are probably wondering how can you implement this feature on your website.
Well, there are two ways to do it. You can either ask your developers to make this feature available on your store or you can choose from a number of plugins available on the Internet.
We recommend Infinite Scroll Plugin by Knowband.
What is it and why should I choose it?
The Infinite Scroll Plugin by Knowband is a feature-packed plugin for e-commerce stores that generates automatic loading on the product listing page and allows visitors to easily navigate through the product catalog. It is a modern replacement for Pagination System and offers seamless browsing.
Features that benefit the merchants:
It includes two ways of displaying the products- List View and Grid View.
Infinite Scroll plugin by Knowband consists of a "Go to top" button that allows visitors to reach to the top section of the page within a fraction of seconds.

One of the cons of Infinite Scrolling that I discussed above was it is difficult to navigate to the top of the page. With the help of "Go to top" button in the Infinite Scroll plugin by Knowband, this problem gets eliminated.
This addon allows you to display a loader on your store while the next page gets loaded.
If not the automatic load, you can use the "Load more" feature that displays a Load More button at the end of a page result.

You can also create a message box at the end of your product results which confirms your visitor that the results have ended.
It doesn't affect your SEO and is compatible with all themes. It is also SSL compatible.
Since Infinite Scrolling can be beneficial for some stores and disadvantageous to some, this plugin, therefore, allows merchants to enable/disable its functions anytime.
Why not give this a try? Do let us know about the results that you obtain after installing this plugin on your store.
Knowband offers Infinite Scroll for Prestashop, Magento, Magento 2 and OpenCart.
You can click here for more details:
PrestaShop Infinite Scroll Addon
Magento Infinite Scroll Module
Magento 2 Infinite Scroll Plugin
OpenCart Infinite Scroll Extension
Please contact us at support@knowband.com for any query or custom change request as per your business requirement.