Pagination or Infinite Scrolling? Which would be better? This thought has struck e-retailers many times and they still get stuck in a dilemma when it comes to choosing between any one of the UX patterns for their website.
In this article, I will share deep insights into both these processes and help you make a better choice. Before we delve into the debate between Pagination and Infinite Scroll, let's try to understand both.
What is Pagination?
Pagination is the process of breaking large content into smaller chunks. It divides your website content into discrete pages and forms a sequential numbering at the end of a page.
A common example of Pagination is the Google search result. Every time you search something on Google, it displays n number of results that are divided into a number of pages.
Pros of Pagination
Talking about the benefits of Pagination, here are some of them.
Better Conversions
"Conversion" is the major factor that has kept online businesses stick to the Pagination process. Pagination proves to be extremely helpful for users who have entered your website with a purchasing mindset rather than just browsing through the content.
Better Control
With Pagination, you can reach to the footer of the website or the top section conveniently, therefore, providing better control to browse the content.
Easy tracking and bookmarking
Pagination makes it easy to track how much content has been consumed. Consider Google search results or Amazon, for example, if you have gone through some pages already, you do not need to go through them again. You can directly jump to a specific page and also bookmark it for later use.
Cons of Pagination
Breaks the flow
Pagination obstructs seamless browsing. It breaks the flow of a visitor by asking him/her to navigate to the next page to browse further, and disturbs the user experience.
More clicks and loading time
Users get tired after clicking on the "next' button or switching between pages multiple times. Not only it is tiring but users also get irked by the page loading process.
What is Infinite Scrolling?
Infinite scrolling or continuous scrolling is a single-page scrolling that goes on endlessly with no certain finish line. It basically loads the overall content on a single page and offers a continuous flow of browsing. With Infinite Scrolling, the next page is automatically refreshed within the same page as the user scrolls down.
Social media sites like Facebook and Instagram are the best examples of Infinite scrolling.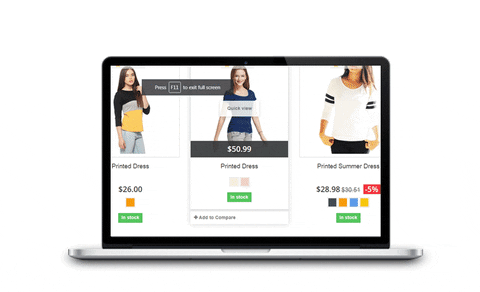 Pros of Infinite scrolling
Talking about the benefits of Infinite Scrolling, here are some of them.
More User Engagement
The primary purpose of Infinite Scrolling is to engage users and make them stay longer on the website. It is basically adopted by those website owners who have content exploration as their primary focus. It also makes browsing fun.
Infinite scrolling keeps the user flow and engages your audience towards your content, hence creating more user engagement.
Lower Bounce Rate
With more user engagement, the average time spent by a user on your website, increases, which eventually reduces the bounce rate.
Best for mobile users
Infinite scrolling provides an amazing browsing experience to mobile users, especially on the mobile app. Since most of the website traffic today is generated through mobile, Infinite scroll makes the best fit for your business as it is more intuitive and user-friendly.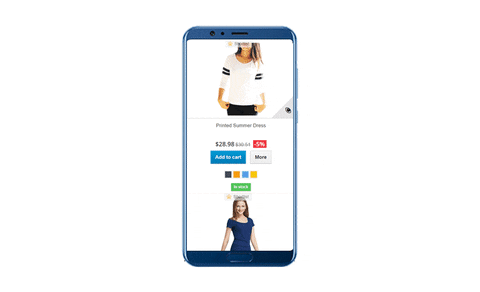 Cons of Infinite scrolling
Difficult to navigate to top
When users keep scrolling down, they usually dig so deep that navigating to the top becomes a daunting task.
Also, users cannot bookmark a page in Infinite Scrolling. They will have to consume the entire content again when visiting for the next time.
No endpoint
Continuous scrolling makes a user feel bored after a point and compels them to take an exit.
In addition to that, a user looking for the footer section on your website can find continuous scrolling quite frustrating as it becomes challenging to reach the endpoint of the page.
Pagination vs Infinite Scrolling: The Final Call
Now, since you have understood both Pagination and Infinite Scrolling along with their pros and cons, it is time to decide which one can be a better option for your website/store.
Considering all the factors, here is my take:
1. If the user experience and user engagement is your topmost priority, go with Infinite Scrolling else stick to Pagination.
2. If you have limited content on your website that a user can reach the endpoint after a certain time, prefer Infinite Scrolling. Pagination would make sense if you have wide content.
In the end, it is totally your call depending on your business and requirements. None of them is bad, both are effective in producing quality results. Keep doing the A/B testing at regular intervals and figure out the most effective one.
If you are thinking to implement the Infinite Scroll feature on your website, consider our Infinite Scroll module.
Infinite Scroll by KnowBand
The Infinite Scroll module by Knowband is a feature-packed plugin that generates automatic loading on the product listing page. It provides easy navigation through the product catalogue.
Infinite Scroll module is a modern replacement for Pagination System and offers seamless browsing.
Features of Infinite Scroll
1. Infinite Scroll addon consists of a "Go to top" button that allows visitors to reach the top section of the page within a fraction of seconds.

One of the cons of Infinite Scrolling that we discussed above was it is difficult to navigate to the top of the page. The "Go to top" button in the Infinite Scroll module eliminates this problem.
2. The Infinite Scroll extension provides you with an option to display a loader while the next page gets loaded. The loading animation keeps the interest of the user while he or she waits for the page to load.
3. To avoid automatic scrolling, you can use the "Load more" feature after a few pages. This makes Infinite Scrolling kind of similar to lazy loading.

4. It includes two ways of displaying the products- List View and Grid View.
5. You can also create a message box at the end of your product results which confirms your visitor that the results have ended.
6. Infinite scroll plugin doesn't affect your SEO and is SSL compatible.
Knowband offers Infinite Scroll module for Prestashop, Magento, Magento 2 and OpenCart.
Check them out for their complete features and benefits
PrestaShop Infinite Scroll Addon
Magento Infinite Scroll extension
Magento 2 Infinite Scroll extension
OpenCart Infinite Scroll Extension
Also give a read to:
One Page Checkout vs Multi Page Checkout: Which is better and why?
10 Benefits of Social Login in eCommerce
Top 10 Checkout Page Optimization Practices to Increase Conversions
How can Infinite Scroll benefit your eCommerce site?